Continuing last year's resolution of reading more, I'm aiming to finish a few books a month. Since January is already almost over and I don't think I'll be adding more to this month's list, here are the books that I've read.
Once again, most of these are e-books because my cellphone is easier to bring everywhere than a traditional book. Special thanks to my top-local trail runner friend, Jeff, for most of these books. I read these during my commutes, down times at the office, and even during rest periods at the gym.
Digital Minimalism: Choosing a Focused Life in a Noisy World
By Cal Newport
This is probably the most important book I've read so far. It is this one that gave me all the free time to read even more books. The gateway book. The key book. Jeff recommended this to me and told me that it changed his outlook on life, so I started this one with great expectations.
Let me tell you, this book wasn't easy to read. Aside from it's length, it seemed like this book was personally attacking my lifestyle choices. As you all may know, I am very much like every other 90's kid. I grew up with the internet. And by now, I am very much online. I have accounts in all the major social media sites and I consume their information on a daily basis.
Well, this book has single-handedly pried my face away from my phone. One of my 2020 resolutions is to be more mindful of the things in my life and it has been difficult to do with my hand and my attention always glued on my phone. If you feel that you are too online and have the self-awareness to do something about it, this book is the perfect companion. I thought I wouldn't be able to live without social media, but after a rough transition, I am enjoying the disconnected life. I saved on my mobile data expenses, and I get to finish more books now. It's actually an eye-opening experience for me, a social media addict.
Cal Newport makes this a very entertaining read and provides solid facts and real stories of people that have taken the Digital Minimalism route. He also provides concrete steps on how to apply these steps to your life. Of course, you don't have to follow everything word for word, but you can understand the meaning behind the book and apply it to your own personal life. There is a lot to learn in this book, from the importance of solitude, to the kind of life you can have once you've tidied up your personal time. Basically, this book reminds us that we use social media… not that social media uses us.
⭐⭐⭐⭐⭐
Simplify: 7 Guiding Principles to Help Anyone Declutter Their Home and Life
By Joshua Becker
This is just a short book. Booklet? IDK. But after reading Digital Minimalism, this book was related to it so I decided to get it over with as well. This one is more of Minimalism in terms of material stuff. I have already long ago decided to live minimalistically, however it hasn't really shown much in the landfill that can be called my bedroom.
I have read Marie Kondo's tips. I have read a lot of articles online on minimalism. I think I have already amassed all the information I need. The only thing missing is to start doing it. This book doesn't really offer anything new to the minimalist movement. I feel that www.youhavetoomuchshit.com is a much more entertaining read.
But in this book, Joshua Becker tells his story of how his family transitioned from hoarders into minimalists, how it benefited them, and how we can also change our lifestyle to be like them. It's all pretty straightforward and the reader just has to apply them and do them.
Spoiler alert, the 7 guiding principles are:
Be Convinced – Believe in the benefits of Minimalism and be prepared to stick to it.
Make Minimalism Work For You – Find your own style of minimalism that works for you.
Jump Right In – Take the first step. Start small, just start!
Stop the Trend – Wanting more will not make you happy. Live a life of value instead of possessions.
Persevere – Keep at it. Keep purging stuff. Maintain the lifestyle.
Share the Joy – Tell your story, build a community. Help each other out.
Simplify Everywhere – Not just material possessions. Time management, etc.
As you can see, there is nothing groundbreaking here, but it's enough to kick you on the butt and get you moving. This book can be finished in a single day, but the main takeaway here is to just start. And start now.
⭐⭐
The Latte Factor: Why You Don't Have to Be Rich to Live Rich
By David Bach and John David Mann
Before I read this, I thought that this was just another pretentious "self-help" book on how to save money and invest in the stock market to get rich. After reading the book, it was pretty much that, but with an interesting twist. I pretty much made it to the end of this book because the writers were able to inject all the advice they wanted to convey into a cute little story.
It got me invested into the main character of Zoey, an editor for a travel magazine, who felt that she was going nowhere with her life. Stuck with student loans, credit card debt, and other money problems, she has a fated encounter with the mysterious "barista" Henry, who teachers her that she might be richer than she thinks.
We follow Henry's unorthodox way of making Zoey navigate through her money problems and throughout the journey, we also get tidbits and advice on what we can do in our own lives to help our spending habits. Zoey eventually learns of her "Latte Factor" aka the small black holes in her daily life where her money ends up going. In my case, it should be called the "Milk Tea" factor.
Again, just like the book above, there's nothing really groundbreaking in the book. It serves more as a reminder to be more mindful of our daily spending, how even a small amount daily can be compounded into huge savings in the long run. There's not much practical application to be learned in this book, so if you are looking for in-depth tutorials for setting up savings accounts or which stocks to buy, you better look elsewhere. But this book is a good way to start as it could help you cultivate a healthy mindset on how you treat your money.
⭐⭐⭐⭐
Everybody Lies: Big Data, New Data, and What the Internet Can Tell Us About Who We Really Are
By Seth Stephens-Davidowitz
Did you know that on average, men search on Google how to perform oral sex on themselves as much as they search on how to give a woman an orgasm? Or that 1.4% of men's Pornhub searches are for women with penises?
Well now you know. And I found this out in this informative book by Seth Stepehens-Davidowitz. The gist of this book is that the digital age has given us a huge wealth of information. And that this information could prove that much of the data that we have gathered previously could be wrong or miscounted. When people are more honest through the anonymity of a google search than in face-to-face surveys, we can see the real situation that isn't being reported in the usual statistics.
Why did Trump win the election, when the surveys showed that most Americans didn't want to vote for him? Are Americans secretly racist? How did Obama help perpetuate the hate against muslims? These are all information that can be found through google searches. This book made me challenge everything I know, and to be more vigilant in all the information being presented nowadays.
To be honest, I was glued to this book because of the sex facts and other trivia to be learned. There isn't much of a practical application from this book unless you are planning to be a statistician or a data scientist, but Seth presents all the data in a very digestible way that even people like me with no background in data-analysis can understand. I'm a sucker for random pieces of information as well as bold statements that make me question the norm, so this one was a total hit.
⭐⭐⭐⭐⭐
Pluto
By Naoki Urasawa and Osamu Tezuka
Okay, this is technically not a book in the sense that it is a manga. But still, I started and finished this incredible series this month so it counts.
Based on Osamu Tezuka's popular manga Mighty Atom, better known overseas as Astro Boy, Naoki Urasawa reinterprets one of the original story arcs and turns it into his own masterpiece. The series is short, with 65 chapters, so it can be consumed in about a week of binging. But I highly recommend you absorb it carefully so you can really appreciate how the story unfolds.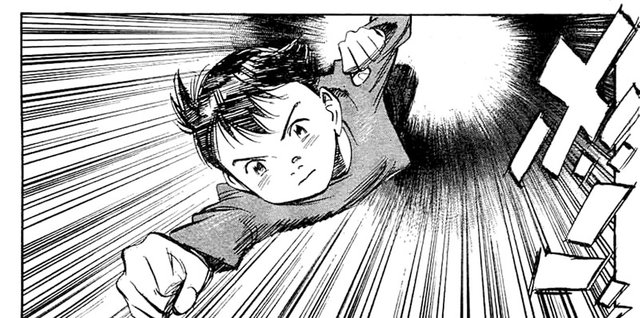 From a shonen style kid's comic, Urasawa turns the story into a thrilling murder mystery. Here, Astro Boy, or Atom, is not the main character, but we focus on a side character in the original, the cyborg detective, Gesicht. We follow Gesicht's investigations on the case of humans and robots being murdered by an unknown killer. It might be confusing at first, but isn't that how most mystery stories start? Let me tell you that the story really takes you and you will find yourself promising to read just one more chapter.
Aside from the main mystery story, the series also includes the themes of the soul, if a robot can have one, as well as the emotions of sorrow, hatred, and violence. It also has an anti-war message that is prevalent in most of Japanese works. These are all blended together into a wonderful science-fiction story that is hitting close to home with the advances of technology nowadays.
Urasawa's art is clear and beautiful. It has the allure of old-fashioned manga realism and is a break from the usual shonen style. Indeed, I found it entertaining to google the characters in Pluto side-by-side with their appearances in the original Astro Boy series. Urasawa has given them so much life and yet, still retained some of their aspects to make them recognizable as they were originally.
If you are looking for a good story and beautiful art, Pluto is a must-read. Many consider it to be Urasawa's strongest work despite it being technically a spin-off. It has a 9.07/10 rating on Mangadex, so you know it's not only me with high praises for it.
⭐⭐⭐⭐⭐
---
So these are all the books I've finished for the first month of the year. I'm currently reading new ones and I hope to report them next month. Let me know if you have read any of these and what you think. If you have read a book that you think I might like based on these, then recommend me some! I'm always open to add more to my reading list. The Winds of Winter isn't coming any time soon, so I might as well read everything else. 🤷‍♂️
Thank you for visiting!
-jgzn