I would like to start out this review by saying that I am not a fan of Burger King. I think that it's overpriced and over-hyped. If Burger King is truly the king of burgers, then this meaty monarchy must be ruled by it's queen, Wendy's. And no, I am not being paid by the latter to bash BK (although throwing a Baconator my way wouldn't hurt). So when my friend wanted to eat at Burger King, I had my doubts. But I agreed because why not? I haven't eaten at BK for a long time and I'm always ready for a burger to change my mind. So without further ado, here is my honest review on BK's 3-Meat Whopper.
Let's start things off with what the menu board showed the burger was gonna look like: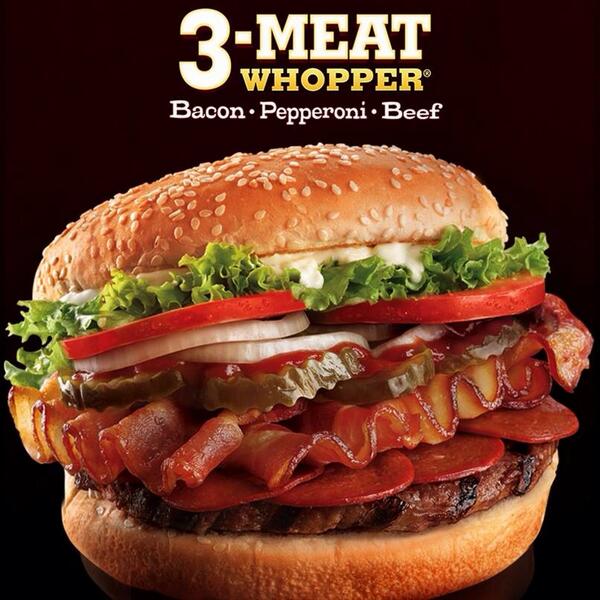 Well, damn, that looks tasty. I wasn't really impressed with their regular whoppers (they were more like hmmm-ers), so I debated between this and the 4-Cheese Whopper. 3 Meats or 4 Cheeses? Eventually, my tummy decided that it wanted more protein that day and so I ordered the burger a la carte which cost me Php160.
The burger was made fast and since I was famished, I quickly found my seat and unwrapped it. Let's take a look at what's under the paper:
Hmm, not bad. I'm not so naive as to actually believe that what I'll get was something that looked like the menu picture, but I was a little disappointed that the burger wasn't taller. The burger itself was hefty, probably the same size as Jollibee's Champ. Now let's see what's inside:
I don't like tomatoes on my burger, but I decided to let them stay because they filled out the burger more and I was really hungry. As you can see, a few slices of lettuce, some misplaced onions, and the 3 meats: bacon, pepperoni, and the beef patty.
The first bite was good. It was great to finally be eating a big burger again. The flavor carriers where the pepperoni and the bacon, while everything else complemented the meat. Here's another look at the insides of this burger:
The taste was really good because the meat and the veggies went together astonishingly great. However, I couldn't really taste the Whopper patty. My big gripe about BK is that their (astoundingly thin) patties are really sub-par. They just don't have that unique taste that patties from other fast-food places have. It is easily overpowered by whatever you pile on top of it (which in this case is the pepperoni and bacon). I'm not saying it's a bad thing because this burger actually tastes good, but it just doesn't have something special that makes it unique as the Burger King.
To conclude, Burger King's 3-Meat Whopper is a good-tasting burger.
Goods:
The ingredients combine together to taste delicious
The menu poster grabs your attention and makes you wanna order it
Big burger, it really fills you up
Made me forget that there're tomatoes in this burger
Bads:
The Whopper patty is lackluster
Not exactly bang-for-bun. Leans more on the pricier side.
Maybe if Burger King would change up their Whopper patty recipe and make it thicker and more flavorful, I'd be happier with my purchase. But it was a good experience. I'll most likely come back to eat again after a couple of years. I hope by then their Whoppers are capable of really "Whopping" me.
-jgzn