Saturday to Monday
November 28-30, 2015
Standing at 2,922 meters above sea level, the summit of Mt. Pulag is the highest point in Luzon. And since climbing the tallest mountain in this island group isn't enough, we decided to hike up the "killer" Akiki trail.
First and foremost, let me just say how misleading the moniker "killer" trail is. To my knowledge, no one has ever died hiking up Akiki. But there have been two people who died in Ambangeg, so technically, it is Ambangeg who is the "killer" trail.
Day 1 – The comfortable climb
After arriving in Baguio early Saturday morning, we took a chartered jeepney to Benguet.
Because of the aforementioned deaths in Ambangeg trail, everyone hiking up Pulag is now required to submit a medical certificate. So we had to pass by the municipal hospital to get checked if we were free to climb.
Once everyone in the group was certified fit to climb, we continued the bumpy jeepney ride to the Akiki ranger station, joining lots of other climbers waiting for porters to be able to climb. We had lunch in the meantime.
Finally, once we secured our porters and guides, we began the first day of our journey up Luzon's peak.
A short while after, we arrived at the Eddet River campsite, where we decided to camp for the night. This camp was a bit further off from our itinerary because of the unexpected delays, but pushing further would mean a night trek and with such a big group and a lot of porters, that would be dangerous.
With the tents set up and the sky going dark, I relished my first overnight hike by glancing up at the night sky for a while before heading inside to sleep. I slept as early as possible because I know we had a full day of hiking tomorrow.
Day 2 – I climb, I rest, I climb again!
Waking up early has never been my strong point. But it was a good thing we awoke early because just as we finished packing up our tents, the rain poured.
Again, we were delayed and I was seriously considering my karma. Thankfully the rain stopped just as the sun was rising, so after breaking our fast, we were off.
I wouldn't call it a "killer," but now I know why Akiki got its reputation. Grueling assaults that never seem to end welcomed us. About ten steps up and I can already hear my heavy breathing.
Marlboro Country was the goal campsite yesterday, and after arriving, we saw a few groups of hikers beginning their ascent. Someone said that there were more or less 100 hikers going up the mountain this long weekend.
After recovering with trail snacks and small talk, we continued to the second part of the assault: the mossy forest.
Near the end of the mossy forest is a small ridge with the last water source before the saddle campsite. We had lunch here and filled our water reservoirs before advancing on to grassland assault.
A little bit more climbing and you emerge into an open grassland. This point is where no other mountain is higher than where you are right now. This is where you really feel the height of Mt. Pulag.
From the start of the climb, there have been majestic views, but the view from the grassland is probably one of my favorites. Never mind the still-constant assault.
Our assault continued until the fog enveloped us. With just the trail in view, we kept walking until we heard the voices of the other campers. We have Finally arrived at the saddle camp. Our day's hike has ended.
After setting up camp, we still had a few hours of daylight left, so a small group (including me) decided to bid for the summit and capture the sunset.
The looming mountain casts shadows into the clouds, and if aligned properly, you can see your silhouette. Shadow play 2 kilometers above sea level.
As I was nearing the summit, I realized in my excitement that I forgotten to hydrate before climbing up. My lips were chapped and my legs were sore. The summit didn't seem to be getting nearer. Powered purely by the thought of reaching the top, I trudged on. Until finally…
All the tiredness left me and I was a bouncing ball of energy once again. The peak gave me the second wind I badly needed.
We took a few more photos of the sunset before descending down and calling it a day. A very wonderful day!
Nighttime at the saddle campsite was cold. Because we didn't have proper gear, we brought a beach tent to the mountains, and suffered for it. The moisture just seeped through the canvas and into our belongings and ourselves. Everything was either wet, or cold, or both!
I changed my socks twice because they got moist and froze my toes off. I was constantly getting woken up by the frigid wetness. Cursing silently, I waited for the call time so I can prepare for the early morning summit climb.
Day 3 – Once you reach the summit, you're halfway there
After quickly gearing up to get out of my wet clothes, I had a sip of coffee and went with my group to climb the summit just before dawn breaks.
As the first rays of the sun shone over Benguet, I was already at the summit, along with hundreds of other hikers.
If I post every picture taken at the summit, this story would never end. I think I'd need a separate post just for the more beautiful pictures taken by my friends.
Finally, it was time to descend. There was a long line of hikers going down from the summit back to the saddle camp.
Back at camp we had our breakfast (I helped cook spam) and packed up our tents for the descent down Ambangeg trail.
There are two types of terrain along Ambangeg trail, one is the grassland near the summit, while most of the trail is foresty.
About four hours later, we found ourselves in the Ambangeg jump-off. There, our chartered jeepney was waiting for us. We had delicious vegetable okoy (MY NEW FAVORITE STREET FOOD) while waiting and I had my first legitimate bath in three days.
Once the group was complete, we took the jeepney to a nearby eatery where we had late lunch/early dinner. After that, we headed to the DENR office to buy souvenirs. I took the time to admire the paraphernalia left behind by previous climbers.
It was a long and bumpy ride from Benguet to Baguio, where we spent the time eating at Session road before boarding our bus bound for Manila. I just have to say, riding in first class was pretty amazing. I slept most of the way very comfortably.
I woke up, sadly, to the realization that I was back in Manila. It felt sad to be back in the city, but I was filled with lots of good memories from the climb. I came down the mountain, but I took the high with me.
---
Itinerary:
(Timekeeping brought to you by rosnof.wordpress.com)
Day 0
22:00 ETD Victory Liner, Bus bound for Baguio
Day 1
02:50 Stopover at Sison Pangasinan
04:25 ETA Baguio, Secure chartered jeepney
05:10 ETD Baguio, jeepney bound for Benguet
06:15 ETA Pinkan Jo Eatery, breakfast
09:00 ETA Benguet Municipal Hospital, secure medical certificates
10:25 ETD Benguet Municipal Hospital
11:30 ETA Akiki Ranger Station, wait for guides and porters, lunch
14:00 Start Trek via Akiki
16:00 ETA Eddet Campsite, set up camp
17:00 Socials, Dinner
19:00 Lights out
Day 2
03:00 Wake up call, pack up, breakfast
06:35 Start Trek
09:40 ETA Marlboro Country, rest
10:45 ETD Marlboro Country
12:00 ETA Last Water Source, lunch
14:00 ETD Last Water Source
16:00 ETA Saddle Campsite, set up camp
17:00 Start Trek to Summit
17:30 ETA Summit, Take pictures, wait for sunset
18:00 ETD Summit
18:30 Back at Saddle Campsite, dinner, socials
19:30 Lights out
Day 3
04:00 Wake up call, morning coffee
05:00 Start Trek to Summit
05:30 ETA Summit, Take pictures, wait for sunrise
07:30 ETD Summit
08:00 Back at Saddle Campsite, breakfast, pack up
10:00 Start descent via Ambangeg
12:00 ETA Camp 1
12:50 ETA Ambangeg Ranger Station, fin chartered jeepney, fix up
16:00 ETD Ambangeg jump-off
17:00 ETA Retaurant, Late lunch/Early dinner
18:00 ETD Restaurant
19:00 ETA DENR Station, buy souvenirs
19:45 ETD DENR Station
21:00 ETA Baguio, Session road, buy souvenirs
23:25 ETD Baguio, bus bound for Cubao & Pasay
Day 4
Tips:
Bring the right tent aka don't bring a beach tent to the mountains. Use multi-layered tents if possible, or those with separate flysheets and groundsheets. Use every tent feature that prevents moisture from seeping into your tent.
Don't underestimate the cold especially at night in the saddle campsite. Bring emergency insulation blankets.
Bring lots of garbage bags. Waterproofing, trash bags, they have lots of uses.
This is one mountain I regret not having a DSLR. You're gonna want to bring one for taking pictures of the very wonderful sights. The night sky is especially amazing at the top of Luzon.
Socks, gloves, bonnets, etc. Protect your extremities and you'll be cozy even in just two layers.
The toilet at the saddle camp is….. undesirable (dubbed by my group as the 'gates of hell'). So as much as possible, poop at the toilets in the Marlboro country or Eddet river campsites.
---
I've hiked with this group lots of times, as they're the ones with me on my mother mountain, and again in Mt. Daraitan. It's glad to see the group again. Thank you for the invite and I'm looking forward to more climbs together!
And that's the story of my three-day encounter with Luzon's highest. I'm finding the appeal of overnight hikes already and if given another chance, I'd be willing to undertake this again, only this time, just a bit more wiser and more prepared.
And that's Luzon's highest peak, finished!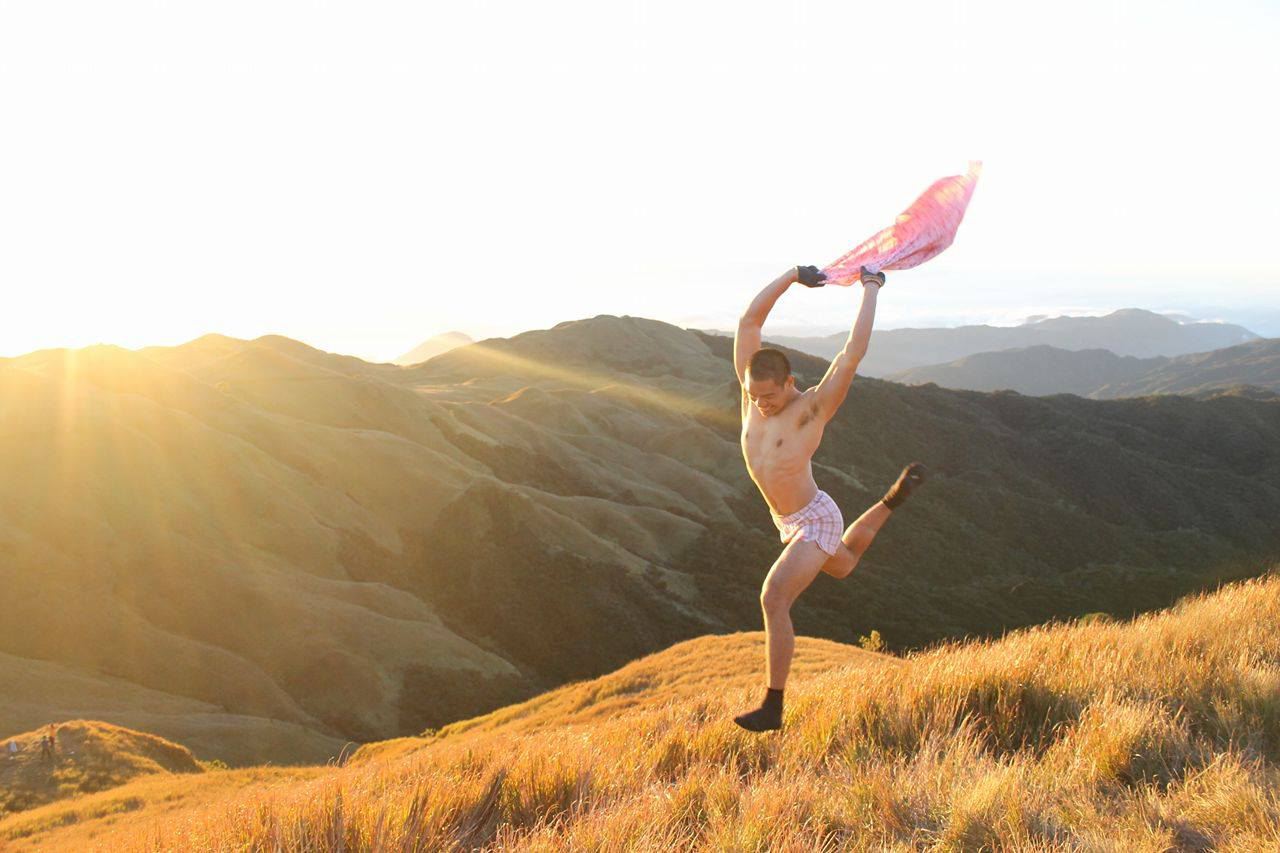 The traveling pink polo reaches the peak of Luzon and the 3rd highest in the Philippines!
-jgzn